Rumballs
Cook: Amanda Penrose
2 tsp vanilla essence
2-3 tbs cocoa
2 tins condensed milk (skim is fine)
2 cups coconut plus an extra bowl
2 packets 'marie' biscuits
Lots of rum!
Note: This is a double mixture, which is most advisable to keep goodwill amongst the eaters!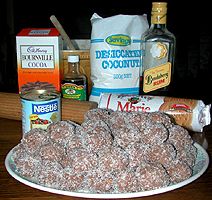 Place bikkies in a bag (2 is better) and dance around on it thoroughly.
Actually, 2 packets is a bit much, so eat, or feed some of them to your spouse before you crush the rest. Scotty is very handy in this capacity.
Mixed crushed bikkies with everything else. Add the coconut gradually, so that the balls are firm but still quite moist. Dry rumballs are awful.
Set up two bowls - one with coconut and one with water to keep your fingers moist. Roll mixture into balls with your fingers only, then roll in the extra coconut (the balls that is, not you!)
Refrigerate. They'll keep for quite a while - theoretically. Good luck keeping them more than a week!