Raspberry Muffins
Cook: Amanda Penrose
Much more interesting than boring old blueberries. Adapted from a recipe I found on the web.
1 1/2 cups plain flour
1/4 cup raw sugar
1/4 cup dark brown sugar
2 tsp baking soda
1 tsp cinnamon
1 egg
1/2 cup melted butter
1/2 cup milk
1 1/2 cups raspberries
1 tsp lemon juice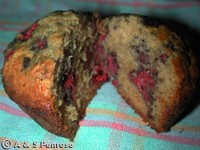 Sift your flour and brown sugar together. This might make a mess of your sifter - sorry about that.
Mix all of your dry ingredients - then add the butter, milk and egg.
Stir in the lemon juice and raspberries, just enough to get them evenly spread through the mix. If the raspberries become broken, or if you pour in too much juice with them, your muffins will turn purple. It won't affect the taste much, but it won't look as impressive :-)
Bake them in a greased muffin tin in a low oven for about 20 mins.