Costume redesign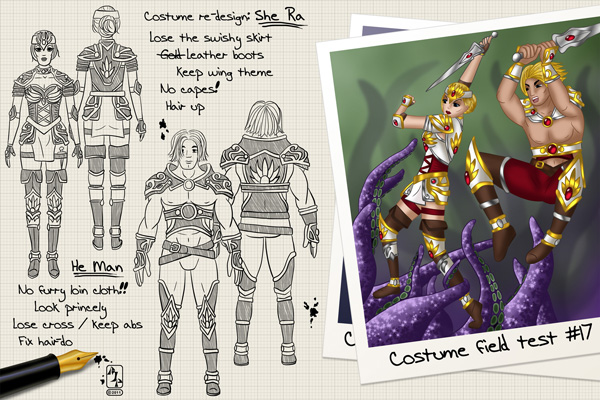 Created for a Madman art competition. "I never look back, darling. I live in the now."
She-Ra, let's lose the unnecessarily swishy skirt. Gold boots are SO heavy. Try leather with some metal trimming. Now you can move! A helmet is a great idea, but let's lose the ditzy wings. Let's aim more for Grace Jones in Conan! You like the wings? OK, I understand that one needs to keep one's theme going. We'll just use them as decorations on the armor, OK? And hair UP please! Long flowing locks are great at parties, NOT in battle. No, you can't keep the cape. No capes!
He-Man, furry loin cloth? Puh-lease! That's the first thing into the trash. You're a prince, man, try to look like it. Ugh, we MUST lose that 'iron cross' too. What are we trying to say with that? I think not. OK, yes, you can still show of your abs and manly chest. Just don't get slashed there, OK? Now, say it with me, MOUSSE, it'll do wonders for that pudding cut 'do, darling. Both of you, your weapons are simply gorgeous, so you can keep those. Besides, they do special magically things, so best not mess with them, I say.