Information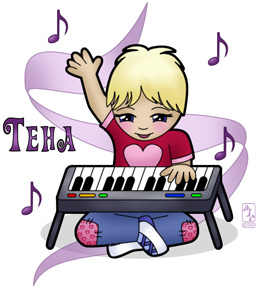 Teha is pronounced 'Tay-ah'.
Brooke and Robin are my beloved uncles.
Name meanings
Taya or Taia
Origin: Vietnamese
Meaning: Beautifully created
Source: www.thenewparentsguide.com
Taya
Origin: Japanese
Meaning: Young
Source: wondertime.go.com
Taya
Diminutive form of Dorothea
Origin: Greek
Meaning: Gift of God
Source: www.babynames.com
"The girl's name Taisiya \ta(i)-si-ya\ is of Russian origin. From the Greek name Thaïs, the name of a witty and clever courtesan (fourth century BC) who traveled with Alexander the Great.
Taisiya has 6 variant forms: Taisia, Taisie, Tasia, Tasiya, Tasya and Taya."
Source:www.thinkbabynames.com
Tayanita
Origin: Native American (Cherokee)
Meaning: Young beaver
Source: www.makewayforbaby.com
Milestones
Sitting upright without support: 10th September 2007
My first food (rice cereal - many faces pulled): 16th September 2007
My first tooth (front bottom right): 7th November 2007
Moving from my back to tummy to sitting (all in one go): 28th November 2007
First plane trip (Queensland): 29th November 2007
Pulling myself up to stand (to reach a toy on the hearth): 5th December 2007
Cruising around furniture very soon after.
First crawl (across the living room): 10th December 2007
First time waving back: 6th February 2008
First train ride (Puffing Billy): 15th February 2008 (my 11 month birthday and Mummy and Daddy's 11th anniversary!)
First time walking more than a couple of steps, pushing a cart around the chimney (chasing Bosco and giggling when I ran over him): 15th February 2008
Pointing most definitely at Mummy in the supermarket: 6th March 2008
Walking completely by myself: 22nd April 2008
Fun facts
Born on my birthday: Renny Harlin, Fabio
Married on my birthday: James Earl Jones and Cecilia Hart, Patty Duke and Michael Pearce, Judy Garland and Mickey Deans, Elizabeth Taylor and Richard Burton, Alan Alda and Arlene Alda.
Links
Mummy - Amanda Jane Penrose, fantasy artist and web designer
Daddy - Scott Dustin Penrose, Perl programmer and glider pilot
Sister - Willow Erica Ash
Family - my family and friends